Vintage 2022 at the Hospices de Beaune estate
2022 is a solar and generous vintage, with 802 barrels for sale at the auction.
All wines are a beautiful expression of their own terroir and of the vintage's great potential.
White wines (182 barrels) combine density and balance.
Red wines (620 barrels) are a smooth blend of structure and noble aromas.
The diversity of Hospices 2022 wines offer great buying opportunities for all winelovers.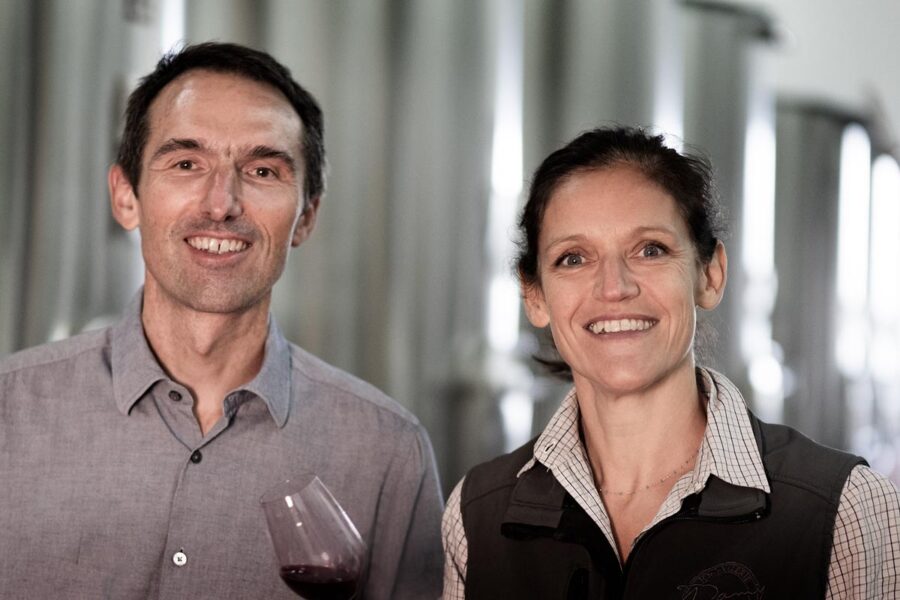 Just like every year, Ludivine Griveau, Hospices de Beaune winemaker welcomes Jean-David Camus from maison Albert Bichot a few times between harvest and auction day. We are happy to share those friendly discussions !
In the interview #1, Ludivine comes back in detail on the key elements of the 2022 vintage: an early vintage right from the start but that took its time eventually to reach maturity. Despite the warmth and the dry hot summer we all remember in Burgundy, some very providential rainfalls at the end of June especially allowed the vines to resist and provide unexpectedly very generous yields.
Interview #2, right in between harvest and auction, allows Ludivine to share her vinification secrets, give very insightful keywords about all the appellations and wines in 2022, as well as a few words about the organic conversion of the estate. Not to mention very important information about the new cuvées of Beaune 1er Cru Clos des Mouches and Corton Grand Cru Les Renardes.
Video interviews – #1 after harvest (September 16th) and #2 one month before the auction (October 20th)
Interview #2 – 20th October 2022, one month before the auction. Vinification, style of each appellation, hot news and presidential barrel
Good morning Ludivine, we're the 20th of October, just one month after the end of harvest 2022 and just one month to go before the 162d Hospices de Beaune auction. I'm really happy to be here and see a lot of barrels! Obviously one month after harvest you have a better view of the vintage, can you please tell us a few words about this vintage and these wines in both colours? 
You're right, one month later we know now more how the wines show. We can confirm that the wines, as we expected, are very deep and powerful. The whites have very fresh aromas, like yellow fruits, flowers. The reds… well it's amazing. Of course the colours are beautiful but it's so obvious that we forgot to mention this. We have strong, concentrated tannins, with a lot of structure. But still they taste sweet and round, which is a bit surprizing because we had a lot of sunshine this vintage, so we expected somehow more rude and affirmed tannins. But they are soft and well balanced. You know how much I was focused on freshness, especially this vintage when we think about the sun that we had. I think we get to the point. But to be really honest, it's not only a matter of winemaking to get this freshness. It's also a matter of harvest date, being appropriate. 

You mention freshness, balance in the wines with the acidity etc. In terms of vinification, being ourselves winemakers, something that we hear about this vintage is that it was falsely easy, « easy but not that easy ». Do you share that view? 
I do share. Difficult to be easy but easy to be difficult! When 2022 was ready to be picked, and even with the first pressing for the whites and starting to put the grapes into the tanks for reds, we did not really know what to do. This is one of the first times this happens to me, not really know what I am going to do. I knew what I was NOT going to do ! So we had to wait for a few days to feel and get to the point. So it was not that easy, but once we get to know the final objectives to focus, what the grapes and the identity of the terroirs could deliver, that was OK. It took a little bit of time. 

Technically speaking, in simple words, how did you work? We worked on the lees for the whites, keeping more than what we used to do, because the lees are a little bit reductive, so they protect the aromas. For the reds we avoided the air when we were pumping over, doing pigeage (punching down the cap). We extracted softly to protect the aromas. And we finished our fermentations at rather low temperatures, understand around 29 Celsius degrees. 

In our modern times, we like to use hashtags, so could you please give a few keywords for each group of appellations or wines? 

• Let's start with the iconic Côtes de Nuits wines (Clos de la Roche, Echezeaux and Mazis-Chambertin).  They are really close to what we expect from them. Keyword number 1 would be grandiose as we say in French: amazing and both complex and already ready to be drunk 
• Then down South with Corton. I would say sure and great value in both colours. Completely classic for Corton Charlemagne, a bit shy, tight, almost tannic. And for the reds, we have depth and roundness at the same time 
• The Beaune vineyards, where we have 10 cuvées (2 whites and 8 reds) Our cuvées are very representative of what Beaune can offer. We separate all the climats (plots) in the tanks when we vinify, but at the end we blend. Those blends offer a wide range of styles. If you expect minerality, you can on Cuvée Cyrot-Chaudron. if you expect depth, you can go on Clos des Avaux. If you expect finesse, you can go on cuvée Maurice Drouhin. If you expect density and heavy, strong tanins then you go on Nicolas Rolin. There is one for every taste, expressing the terroirs very nicely. 
• What about Pommard? Pommard…I'm really starting to get to the point with Pommard. I had told you that Pommard was an area I was not so much at ease so far.  But since a few years, I start to appropriate this terroir to myself. So I would say balance. • Monthelie?  Fruity, very fresh, vinified without sulphur. Interesting and to be drunk easily.
• Savigny and Pernand? Classic! We expect Savigny to be sweet and concentrated at the same time. In Pernand we produced a little bit less, but I would say close to Corton, concentrated, but fresher 
• What about the golden area of Meursault? You can go on classic Meursault for the village: roundness, pastry, generosity, and elegance. If we separate the 3 Premiers Crus : I would say shy and with a tannic structure for the Porusots, on the other hand the Charmes is very round and deep, concentrated (but not heavy as not over-ripe), and the Genevrieres could be in between 
• Let's not forget the Grand Cru Bâtard-Montrachet ! What's the word in English for grandiose? Outstanding, gorgeous.

 A very important decision that you announced a few weeks ago: the organic conversion of the Hospices de Beaune estate. What are the reasons and the objectives? 
As you know, for many years, even before I joined, the estate was run without any chemical products. This is our second year of conversion. The decision was taken because we felt, and to be honest I felt, ready. Before, this requires many steps to be confirmed and set up: team, equipment, knowledge, skills, and also meeting people to share their views. Well, you know because at Albert Bichot you are a lot in advance about this organic matter. It was important to meet a lot of people already converted. It was very obvious for the hospital to go in that way. We already provide care, we focus on health. It was something logical. Now it's something we're in! I guess you would probably be able to go to the end of the process, with an organic ageing. 
Exactly, as you said we started our organic conversion for the estates quite a while ago. So definitely we'll be able to age the Hospices de Beaune wines following the organic principles. We're happy to pursue your work and your care upstairs in the cellars and in our cellars as well, with a lot of pleasure.  

There are also a few changes in the cuvées of Corton, and a new cuvée of Beaune 1er Cru white Clos des Mouches?
There will be indeed a new wine: Beaune 1er Cru Clos des Mouches cuvée Hughes et Louis Bétault. It's not a new parcel, it was already inside the Hughes et Louis Bétault in red. But when we snatched it about 12 years ago, we replanted in Chardonnay. So we've been doing this wine for a few years. it's something very classical for an estate to snatch and remove and replace…it's part of the life of an estate. So it's new for you, but not really specific.

What is more specific is the Corton matter. We don't have a new parcel of Corton at all. We now organise the cuvées completely differently.
When I vinify, I separate the 4 climats of Corton: Bressandes, Renardes, Chaumes and Clos du Roi. The last one, Clos du Roi, was already separated in a cuvée Clos du Roy (Baronne du Baÿ). The other 3 terroirs were already separated in vinification, but I used to blend them to provide the Charlotte Dumay and Docteur Peste cuvées. I was doing this for the history, not for the identity, the Burgundy DNA. I think both ideas are not impossible to link. And that's why we decided to keep them separated now, they are better separated than blended.


So we will have 4 cuvées of Corton Grand Cru : Corton Clos du Roi (cuvée Baronne du Baÿ), Corton Les Renardes (cuvée Les Renardes), Corton Bressandes cuvée Charlotte Dumay and Corton Chaumes cuvée Docteur Peste


A great move! We like both as you know we have some Beaune 1er Cru Clos des Mouches and some Corton Grand Cru Clos des Maréchaudes… so we're neighbours! We're really looking forward to presenting them !

Speaking about Corton which is very deep to your heart, this year you also pay tribute to Louis-Fabrice Latour, who someone called the King of Corton for the Presidential Barrel
We wanted to honour this great man. We straight away thought about Corton for this barrel, and to go to the end of the process we asked Louis Latour's tonnellerie (cooperage) to provide us with this special barrel that they made, with their oak, their own toast and style. I hope Louis-Fabrice would be proud. So, it's our Corton in their barrel.
Defending the childhood cause with Princesse Margot and Vision du Monde for charities is obviously a great cause and we'll support that as much as possible like every year.


Last but not least, how do you feel a few weeks before the auction? Excited, ready, defending a beautiful vintage?  The three of them! I must really thank my wonderful team. This vintage would not have been so great and precise without them. I think it's the best team I've ever had so far. This is why now I feel secure and proud, and optimistic. We're optimistic too! It's a great vintage, we'll have a great pleasure as always supporting the Hospices, promoting it and now let's wait until auction day.  
See you in one month! 
Interview #1 – 16th September 2022, last day of harvest
Thank you Ludivine for welcoming Albert Bichot at the Hospices de Beaune winery today, 16th of September. Can you please summarize this great 2022 vintage?
It could be long to sum up, but in short we started the cycle at the end of winter with a good level of water. It was an early vintage from the beginning. We feared a bit of frost in April but by the end everything was OK. Then the vineyards continue to grow very gently, softly and regularly, with a good flowering period - very regular. We knew from this time that the yield would be rather generous. We worked in the vineyards to regulate this quantity of grapes : green harvest, disbudding and checking that the repartition of the grapes was ok on each plant.
We finally had a very dry and hot summer. So by the end we feared to have small berries and small volumes of juice. But it's a kind of magic as when we started to harvest we saw finally a very generous amount of grapes and a lot of juice. It is rather unexpected. Don't ask me how or why, I cannot explain! Probably because we had these small rains exactly when we needed: end of june, mid of august, a bit during the harvest which was good for the berries. It was a succession of small events excactly at the right time at the right place. We're very lucky compared to some other wine regions.

When did harvest 2022 start?
We started in Pouilly Fuissé on the 25th of august, then the chardonnay here on the 29th, followed by the pinot noir on the 30th and the last grapes arriving today (16th of September). Quite a long harvest!  

In a solar vintage, challenges could be acidity, high sugar levels and keeping freshness.  When you see the winery with all this attention to details and care, how do you manage all this to make great wines eventually?
The first point was to harvest at the right moment. So we focused on each parcelle. We focused and picked each of the them at the right moment. The tanks around us are all full and I think we have very nice and balanced fruits. The analysis are rather unexpectedly good, with good levels of acidity in such solar conditions. So we work on the tanks for reds or on the press for whites to keep this freshness. It means we play on the lees for the whites, on cold maceration for the reds, to extract the aromas and to work on the acidity of the juice at the very first stage of maceration. And then we'll focus on the fermentation itself, happening now for the extraction. The main point was to focus on the acidity. We don't have a lot of malic acid but luckily we have a lot of tartaric acid, the main acid of wine. So we don't mind too much about the malic acid because the general balance will be good.

It is a generous year in terms of yields but in terms of style and potential, does 2022 compare with some other vintages, even partially ?
That's a good question. It's a bit early to give an opinion. So far because of the very nice level of juice that we have, because of the very nice maturity and the behavior in the tank, this vintage is like 1999 to me. But it's not a definitive idea… It's a nice vintage, with unexpected volumes and balance. Everything is under control ! It's also a good sign for the auction to come, on the 20th of November and I know you won't miss it ! it's very important for me to make great wines, especially in such a fascinating vintage.

Thank you very much Ludivine, we'll meet again in a couple of weeks for a more technical exchange. See you soon!
See you soon Jean-David!
A few pictures from harvest and vinifications of the 2022 vintage at Domaine des Hospices de Beaune
Please note all these pictures are protected by copyright @J.D. Camus/Maison Albert Bichot. Using them without our consent is illegal.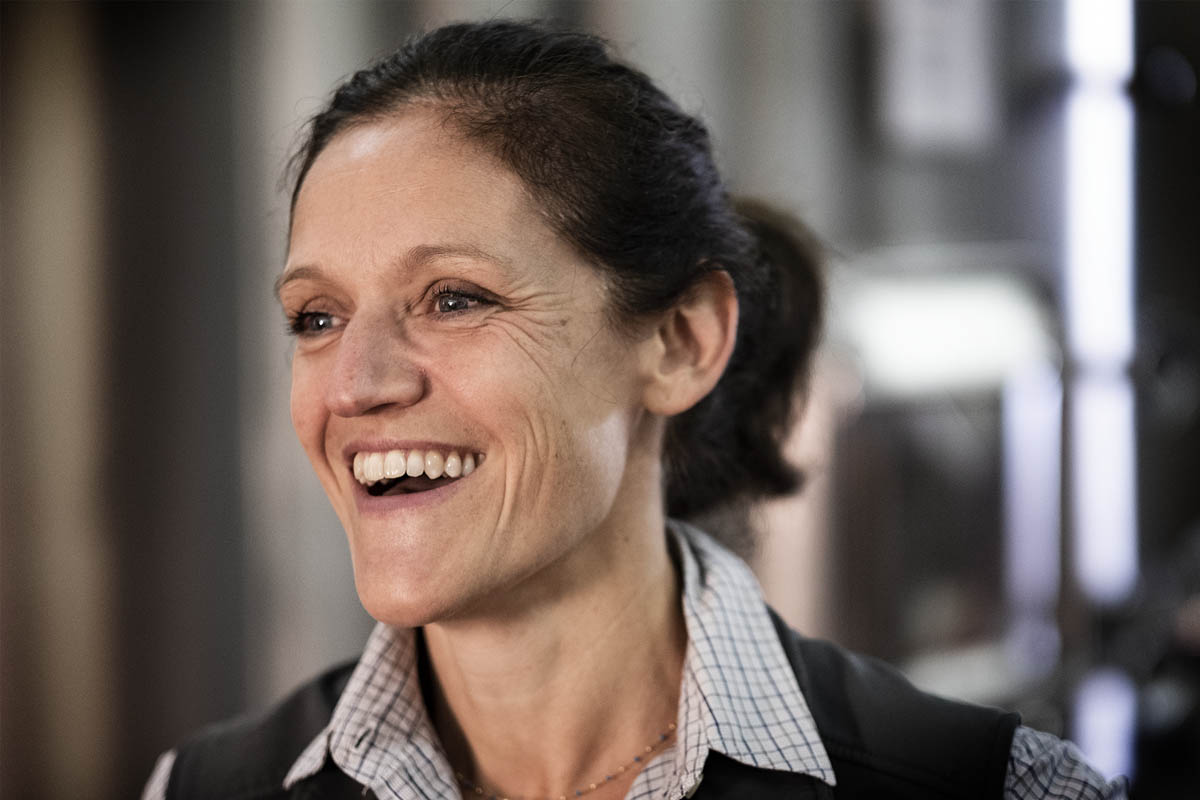 How to buy at the Hospices de Beaune auction with Albert Bichot, from 1 bottle to 1 barrel?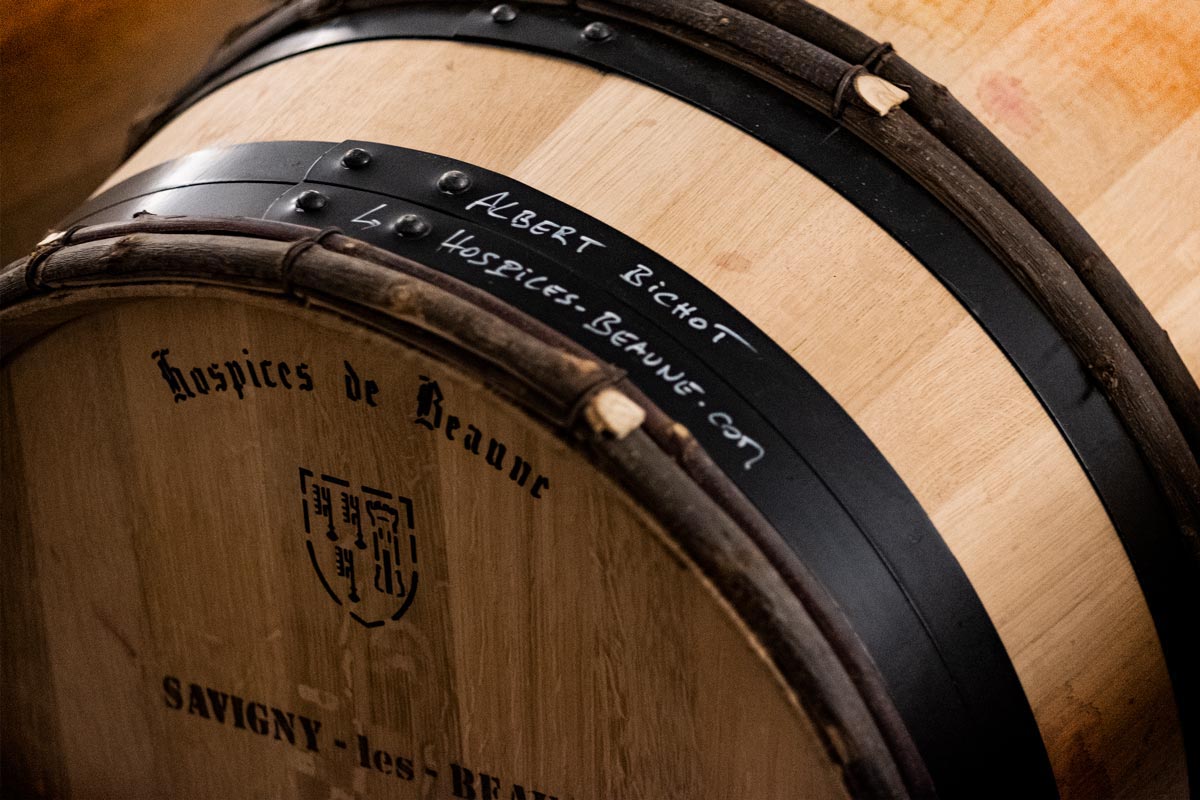 Buy a barrel at the Hospices auction
288 legendary bottles
UNFORGETTABLE EXPERIENCE
51 MYTHICAL WINES
BESPOKE SERVICE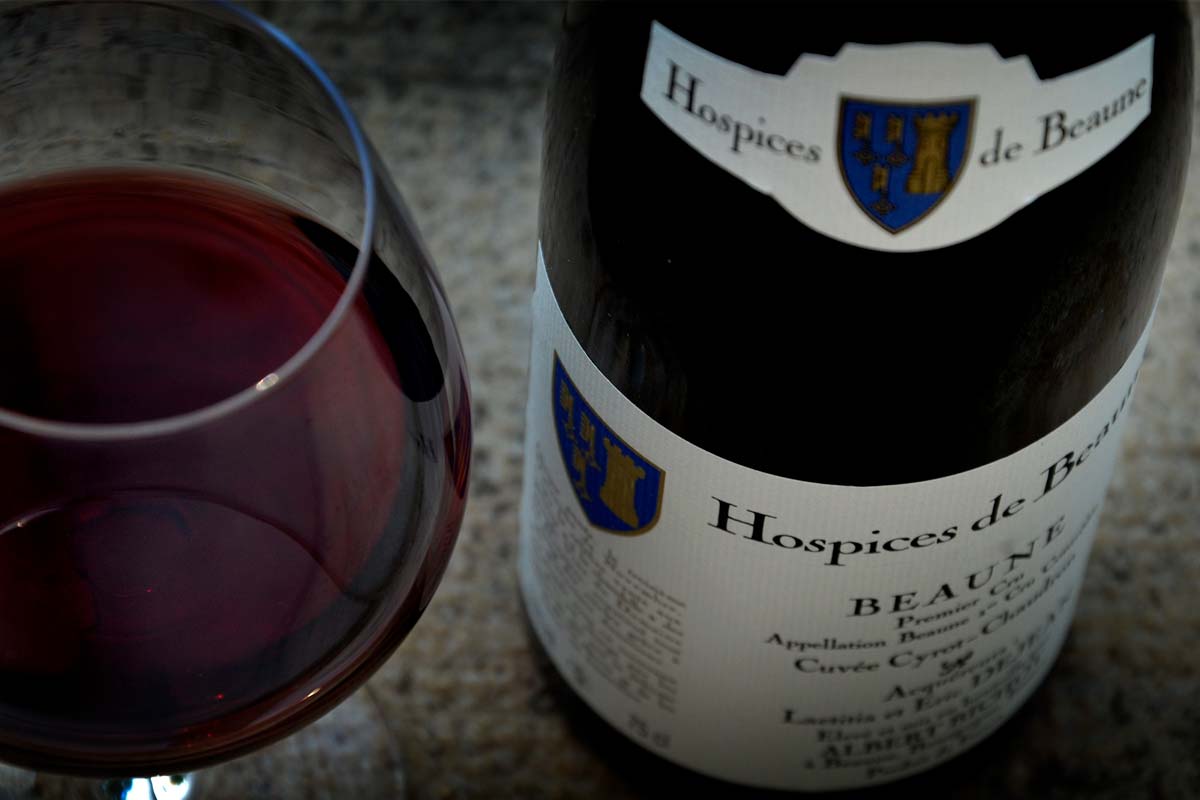 Buy from just 1 bottle at the Hospices de Beaune auction
5 WINES SELECTED BY ALBERT BICHOT.
EN PRIMEUR PURCHASE
Buy online Albert Bichot en primeur wines or Hospices de Beaune back vintages