Beaune 1er Cru Cuvée Nicolas Rolin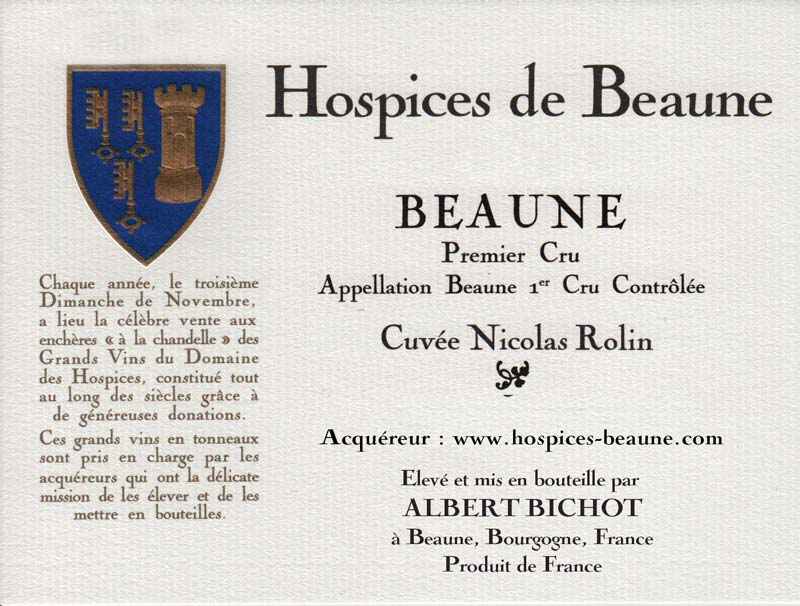 PDF
---
Region: Côte de Beaune

Village: Beaune
Level: Premier Cru
AOC: Beaune 1er Cru
Grapes: Pinot Noir
Color: red
Tasting
The colour is attractive in various hues of bright red. Nose: dark berries and currants. Intense palate, with significant tannins at the back, and a mineral crunch to finish.
Food matching
Roasted chicken with thyme, veal blanquette with mustard.
History
Nicolas Rolin, Chancellor of the Duke of Burgundy Philippe le Bon, founded the Hôtel-Dieu in Beaune in 1443. From 1452, nursing sisters, who had been brought from Flanders, welcomed and cared for the first patients in the great Paupers' Ward. The Cuvée was enlarged in 1963 thanks to a legacy made by Madame Maurice Pallegoix in memory of her husband, who was mayor of Demigny. The oldest vines in the Cuvée are Les Cent Vignes, representing 54% of the surface, and Les Teurons (19%), which were respectively planted between 1953 and 1975, and 1950 and 1955.
Terroirs
Les Cent Vignes 1.35 ha.,
Les Teurons 0.47 ha.,
Les Grèves 0.36 ha.,
En Genêt 0.18 ha.,
Les Bressandes 0.16 ha.
Photos & videos gallery