Hospices de Nuits-Saint-Georges: 2022 vintage report by winemaker Jean-Marc Moron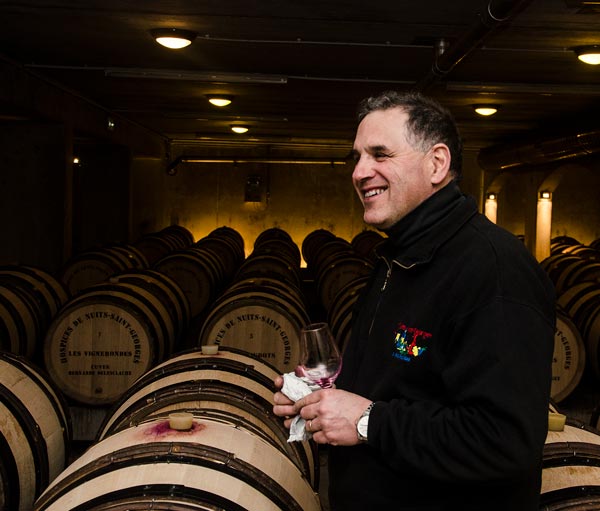 2022: the perfect year we were waiting for !

After a mild winter, the vegetation slowly started growing in mid-April. The spring frost spared us and the vegetation became very active in May, enjoying the almost summer-like conditions. Flowering began around 20 May and lasted for about 10 days. Judging from the clusters that had formed, we were already predicting a good harvest potential. June was a more unsettled month but the rainstorms brought the vines the water they needed for the summer period.

The veraison commenced slowly in mid-July, but the process accelerated at the end of the month and ended homogeneously across the various plots on 8 August. After some initial hesitation, but noting that the hot, dry weather appeared to be holding, we began harvesting on 31 August.

As soon as the first grapes were brought in, we realised that the harvest was more abundant than we had been expecting and with a quality that proved to be remarkable. There was virtually no sorting required and we had perfect maturity. The grapes were highly aromatic and the musts well-balanced, the heavens had conspired to give us a great vintage!

The alcoholic fermentations went off quickly, we did not perform much punch-down work but instead carried out long pumping over operations to refine and stabilise the wines. Coming off the press, the wines appeared rich, supple, elegant and well-structured, with a bright ruby hue, typical of a Pinot Noir harvested at full maturity.

After a relatively straightforward winegrowing season and trouble-free vinifications in which we worked carefully with the grapes to ensure they delivered their best, we have a 2022 vintage with a combination of quality and quantity. Despite the summer periods during which they again had to suffer from some extreme weather, the vines had adapted to give us the perfect year we were waiting for.

Jean-Marc MORON, régisseur du Domaine des Hospices de Nuits-Saint-Georges
Tasting all cuvées from the Hospices de Nuits-Saint-Georges: Albert Bichot's report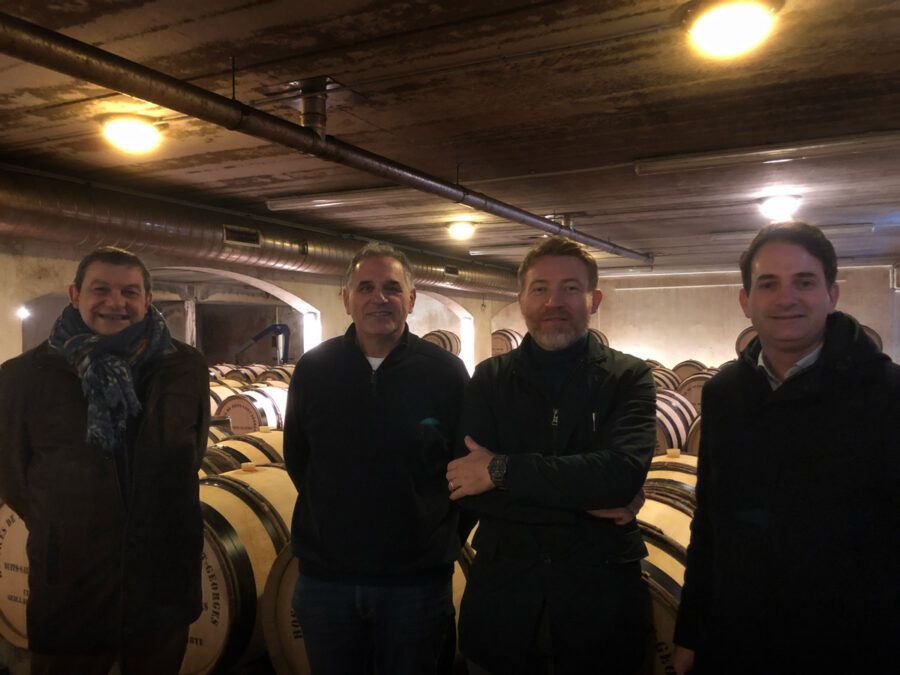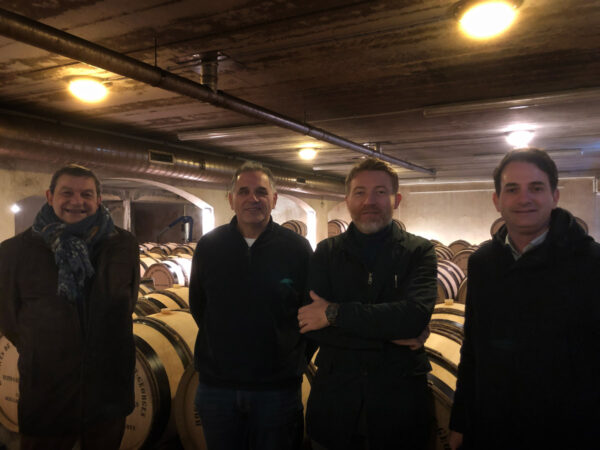 Albert Bichot plays a major role in the Hospices de Nuits-Saint-Georges auction (just like for the Hospices de Beaune) being more often than not the #1 buyer, like we were in 2022 for the 2021 vintage. Not a surprise when you know that our Domaine du Clos Frantin in Nuits-Saint-Georges is the neighbour from the Hospices de Nuits winery! We will of course have the real pleasure to select and age those gorgeous Nuits-Saint-Georges wines after the auction. Here is our own analysis from the 2022 vintage and wines
The 2022 vintage is consistent with the series of sunny vintages we have been experiencing for several years. In other words, it was a year with plenty of sun and moderate rainfall, but with the chance of a spring frost. This frost has become a very real risk because the budding is now taking place earlier and the vegetation, stimulated by the mild temperatures at the start of the season, is therefore exposed to the potentially devasting impact of cold snaps later in the spring. This year the impact was minimal. The same goes for the few hailstorms that hit some parts of the Nuits-Saint-Georges vineyards in June without any major impact on production.

This year has therefore avoided the weather hazards that we might have expected. In fact, despite the shortage of rainfall, the yields were very good and the Pinot Noir tannins were able to soften without the ripening process stalling through the lack of water. The alcohol levels can be high, but this is not the rule and on average they are quite moderate. Acidity has been preserved, a little more in the whites than in the reds, and we will have to carefully manage this factor during the crucial ageing period, in order to smooth out the wine while preserving its freshness. A subtle work of balance awaits us for the Hospices de Nuits wines and we are looking forward to the challenge!

The Pinot Noirs are rich and although their black fruit aromas are those of a sunny vintage, they are interwoven with a touch of tart red fruit such as raspberries. This raspberry aroma, which the winemakers would have noticed since this freshness was so unexpected, is still very present during the ageing process and bodes well for the development of a lovely aromatic palette as the wines are aged. The wines from the hillside terroirs are the most balanced, as the vines here are by nature resistant to extreme water conditions. The Hospices de Nuits-Saint-Georges plots greatly benefit from this configuration.

The only white wine produced (Pierre de Pême) is in line with the character of the year's Chardonnays with aromas of white flowers and white fruit and possessing a lovely mineral reserve.

The 2022 Pinot Noir wines show terroirs distinguished by their origin. Their density brings them into line with the 2019 and 2020 vintages. These are "grands vins" with great promise!

Albert Bichot winemaking team
A new exceptional wine for the 2022 auction: Nuits-Saint-Georges 1er Cru "Les Saint-Georges" cuvée Hughes Perdrizet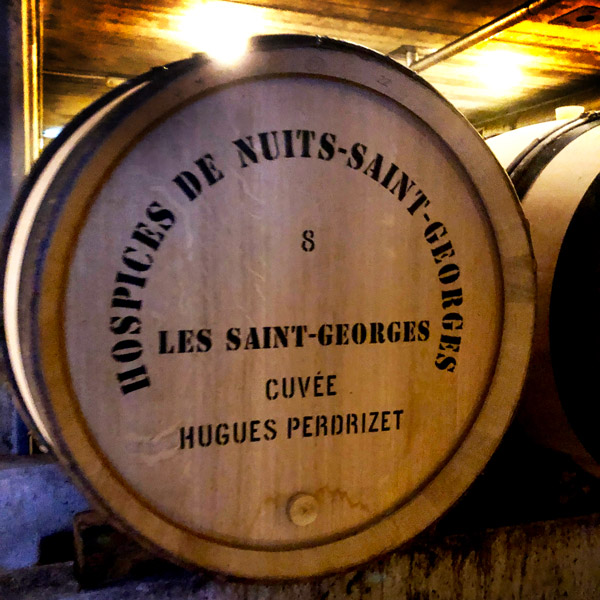 This wine was already '"showcased" once for vintage 2020 as the presidential barrel but this is the first time this cuvée is available for sale at the auction, and meant to be a perpetuous addition to the auction catalogue.
A specific, hand-made, selection of 400 vines in the most famous and praised "Les Saint-Georges" plot, this truly exceptional wine is likely to reach the stars during the auction, with truely great reasons as this new cuvée Hughes Perdrizet (the first donator of vines to the Nuits-Saint-Georges hospital a few centuries ago) is definitely THE best wine of the vintage.
How to buy at the Hospices de Nuits-Saint-Georges auction with Albert Bichot ? From 1 bottle to 1 barrel, we're at your side for a memorable experience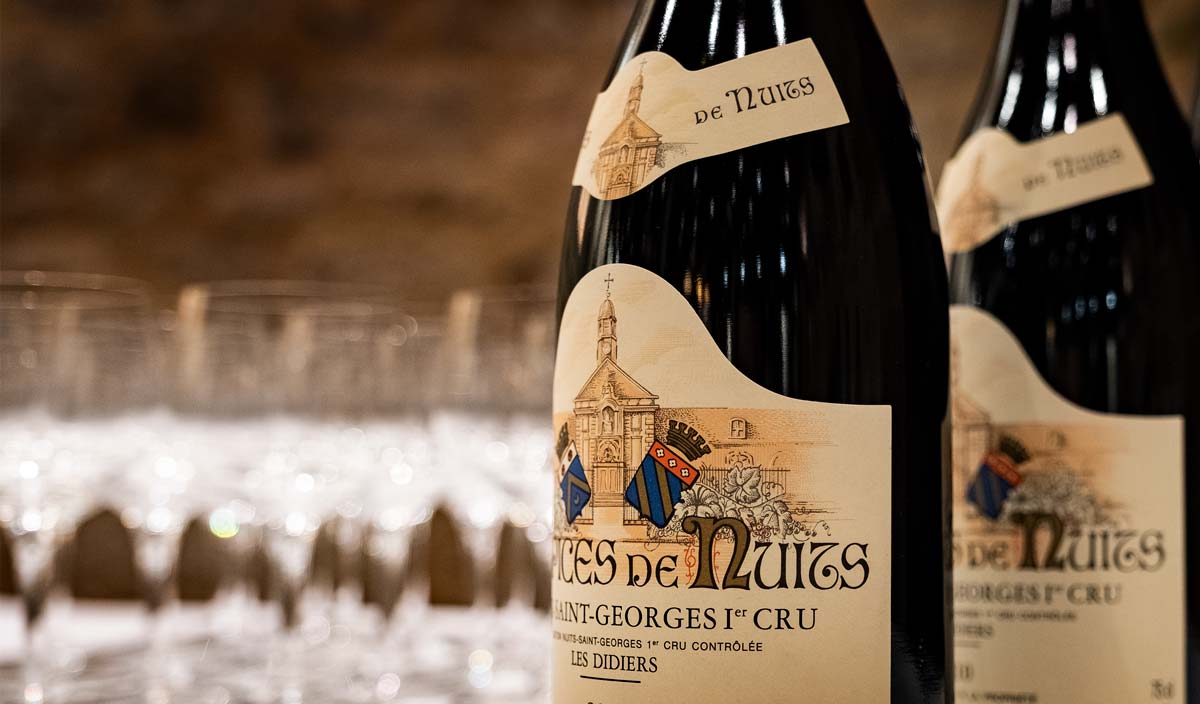 Buy at the Hospices de Nuits-Saint-Georges auction
from just 1 bottle
2 WINES SELECTED BY ALBERT BICHOT
OPTIONAL CUSTOM LABEL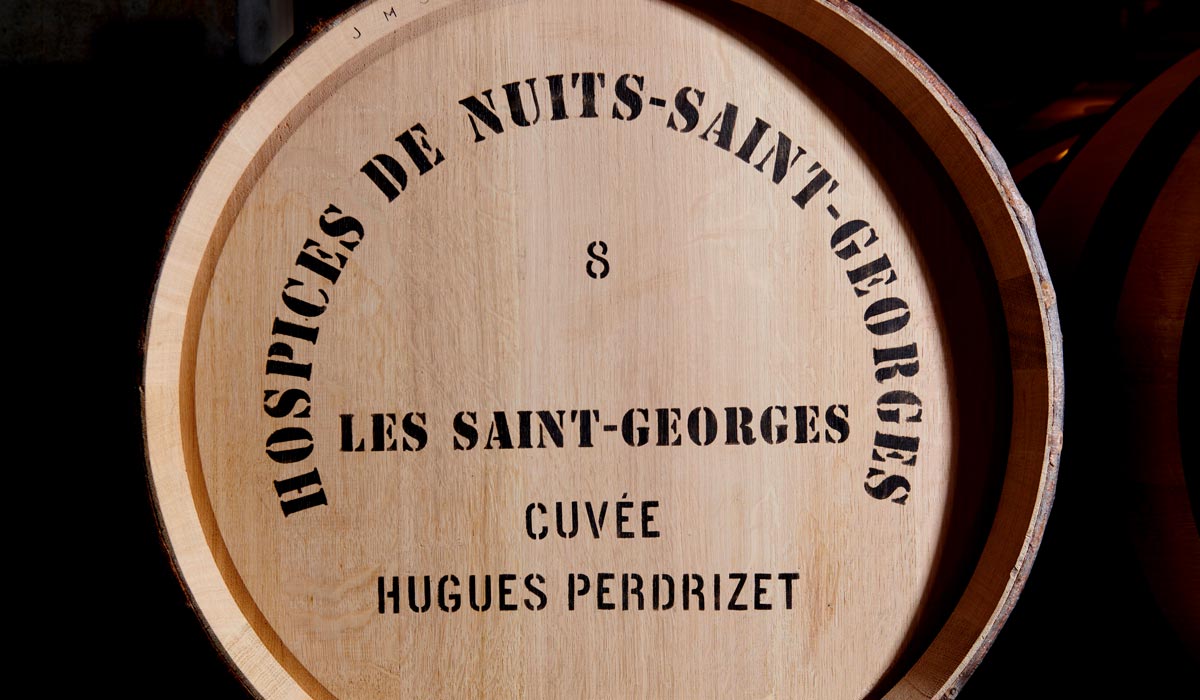 Buy a barrel (288 bottles) at the Hospices
de Nuits-Saint-Georges auction
UNFORGETTABLE EXPERIENCE
16 WINES FROM CÔTE DE NUITS
BESPOKE SERVICE
Hospices de Nuits-Saint-Georges vintage 2022: a record auction with 160 barrels for sale !
2022 vintage means back to generosity, after a tiny 2021 vintage. Perfect weather conditions allowed Jean-Marc Moron to craft 160 barrels this year. A record for the Hospcies de Nuits-Saint-Georges estate since its foundation more than 8 centuries ago! The detail of the cuvées that will be on auction on the 12th of March 2023 in the cellars of Château du Clos de Vougeot is to be found further down this page.
Hospices de Nuits-Saint-Georges vintage 2022: the details of all wines that will be up for sale at the auction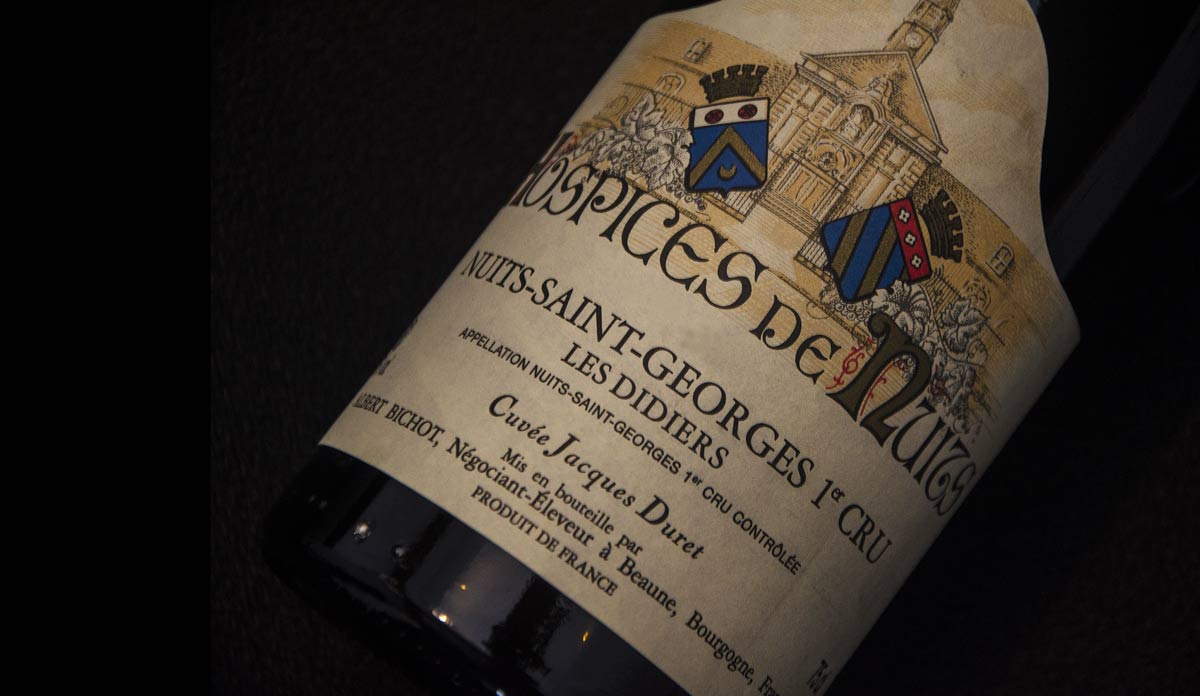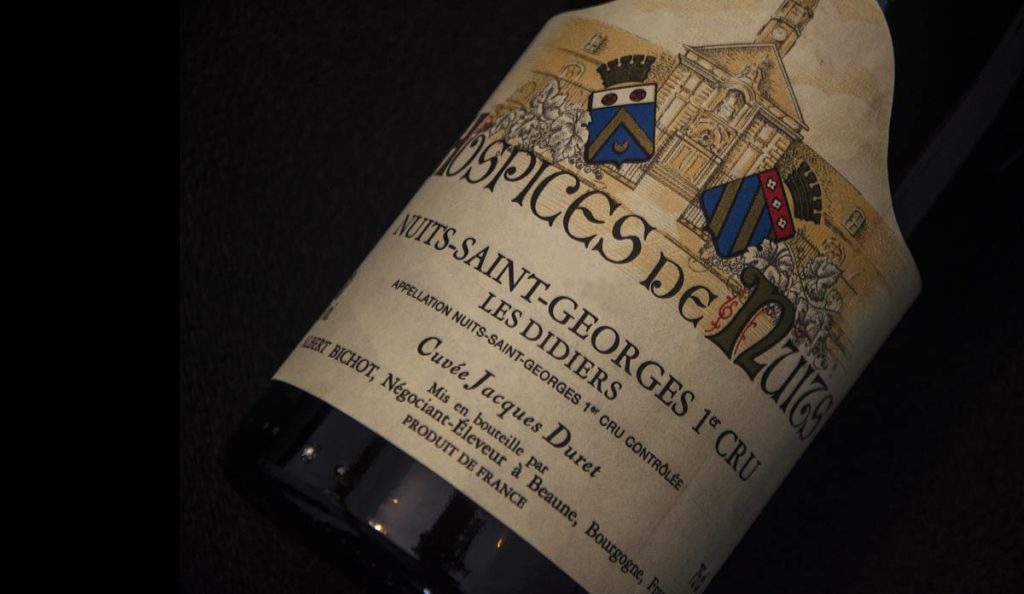 Nuits-Saint-Georges 1er Cru LES MURGERS Cuvée Guyard de Changey
Nuits-Saint-Georges 1er Cru LES CORVEES PAGETS Cuvée St Laurent
Nuits-Saint-Georges LES MALADIERES LES BRULEES Cuvée Grangier
Nuits-Saint-Georges 1er Cru LES PORETS Cuvée Antide Midan
Nuits-Saint-Georges 1er Cru LES BOUDOTS Cuvée Mesny de Boisseaux
Nuits-Saint-Georges 1er Cru LES DIDIERS Cuvée Fagon
Nuits-Saint-Georges 1er Cru LES VIGNERONDES Cuvée Bernarde Delesclache
Nuits-Saint-Georges 1er Cru LES RUES DE CHAUX Cuvée Camille Rodier
Nuits-Saint-Georges LES LAVIERES – LES BAS DE COMBE Cuvée Guillaume Labye
Nuits-Saint-Georges 1er Cru LES SAINT GEORGES – LES SIRES DE VERGY Cuvée Georges Faiveley
Gevrey Chambertin LES CHAMPS CHENYS Cuvée Irène Noblet
Nuits-Saint-Georges 1er Cru LES TERRES BLANCHES Cuvée Pierre de Pême
Nuits-Saint-Georges 1er Cru LES DIDIERS Cuvée Cabet
Nuits-Saint-Georges LES SAINT JULIEN – LES PLATEAUX Cuvée Claude Poyen
Nuits-Saint-Georges 1er Cru LES SAINT GEORGES Cuvée des Sires de Vergy
Nuits-Saint-Georges 1er Cru LES DIDIERS Cuvée Jacques Duret
Nuits-Saint-Georges LES FLEURIERES – LES PLANTES AU BARON Cuvée des Sœurs Hospitalières
Nuits-Saint-Georges 1er Cru LES TERRES BLANCHES Cuvée St Bernard de Citeaux