Hospices de Beaune 2021 by Albert Bichot: key moments in video
A 2021 Hospices auction with outstanding results despite one of the lowest harvests ever
« Buying from the Hospices de Beaune is a tradition as much as it is a commitment", says Albéric Bichot, 6th generation of the family and born at the Hospices de Beaune himself. These 2 values were superbly illustrated on November 21st at the 161st Hospices de Beaune wine auction, the most famous charity wine auction in the world.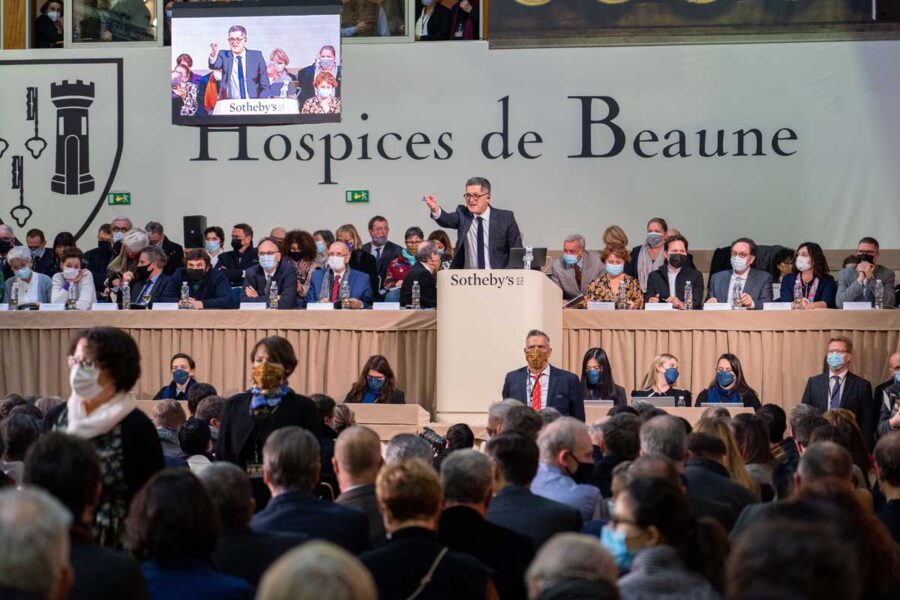 The 161st Hospices de Beaune Wine Auction, led for the 1st time by Sotheby's took place on Sunday November 21st. The sale reached M€ 11,7 for a total of 351.5 barrels (i.e. an average price of €33,223 per barrel). An extraordinary and very unexpected result very close to last even though there were 280 barrels less for sale.
Despite the sanitary situation which is till tense, the main French and international buyers were present to support the Hospices de Beaune and fought strongly for every single barrel, to an unprecedented increase in prices of 100% for whites and 60% for reds compared to last year.
New record for the record Pièce des Présidents with € 800,000 for a barrel of Corton Grand Cru Les Renardes.
The "Pièce des Présidents", a barrel of Corton Renardes Grand Cru reached a historical record of €800,000, to be shared between two associations defending women in their own way. The French actress and singer Jeanne Balibar came to support the "Fédération Nationale Solidarité Femmes" which acts for the protection of women victims of violence. French actor Pio Marmaï was the sponsor of "Institut Curie" which develops a research project namely on breast cancer.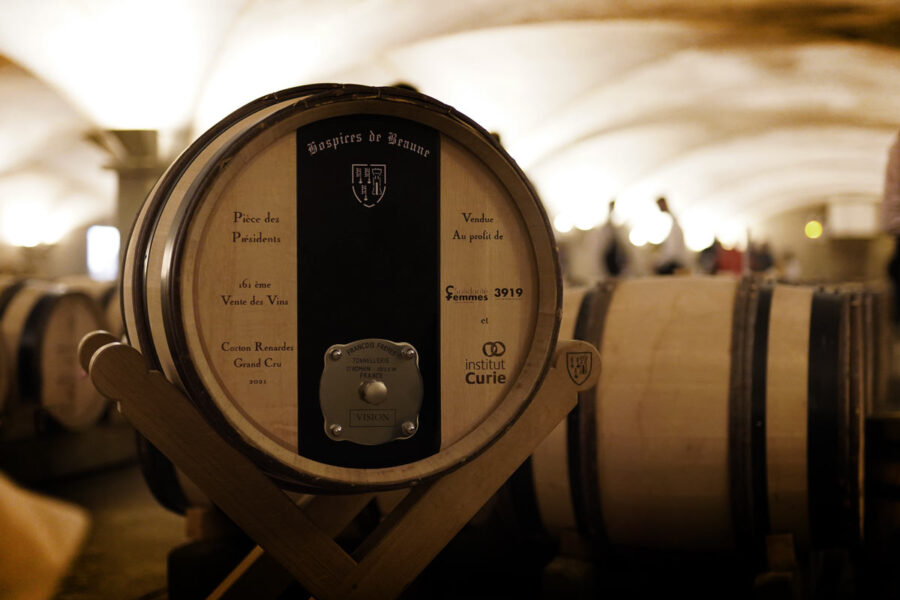 Albert Bichot remains the #1 buyer with 45.5 barrels (17% of total auction value)

Albert Bichot has been the first buyer of the Hospices de Beaune wine auction for more than 20 years now. It has been the case again this year with the acquisition of 45,5 barrels for an amount of €1,989,000 or 17% of the total amount of the sale. Here is below the detail of all the different cuvées (wines) that we bought and that we'll age with utmost care and dedication
BEAUNE 1ER CRU CUVEE DAMES HOSPITALIERES
POMMARD 1ER CRU CUVEE DAMES DE LA CHARITE
VOLNAY 1ER CRU CUVEE GENERAL MUTEAU
BEAUNE 1ER CRU CUVEE GUIGONE DE SALINS
CLOS DE LA ROCHE GRAND CRU CUVEE CYROT-CHAUDRON
CORTON GRAND CRU CUVEE CHARLOTTE DUMAY
BEAUNE 1ER CRU GREVES CUVEE PIERRE FLOQUET
SAVIGNY-LES-BEAUNE 1ER CRU CUVEE ARTHUR GIRARD
VOLNAY 1ER CRU CUVEE BLONDEAU
MAZIS-CHAMBERTIN GRAND CRU CUVEE MADELEINE COLLIGNON
CORTON GRAND CRU CLOS DU ROI CUVEE BARONNE DU BAY
VOLNAY 1ER CRU SANTENOTS CUVEE JEHAN DE MASSOL
MEURSAULT 1ER CRU GENEVRIERES CUVEE PHILIPPE LE BON
CORTON CHARLEMAGNE GRAND CRU CUVEE FRANCOIS DE SALINS
MEURSAULT 1ER CRU CHARMES CUVEE ALBERT GRIVAULT
POUILLY-FUISSE CUVEE FRANCOISE POISARD
BATARD MONTRACHET GRAND CRU CUVEE DAMES DE FLANDRES
MEURSAULT 1ER CRU CHARMES CUVEE DE BAHEZRE DE LANLAY
MEURSAULT CUVEE GOUREAU
CORTON GRAND CRU CUVEE DOCTEUR PESTE
ECHEZEAUX GRAND CRU CUVEE JEAN-LUC BISSEY
CORTON GRAND CRU CUVEE DOCTEUR PESTE
CLOS DE LA ROCHE GRAND CRU CUVEE GEORGES KRITTER
SANTENAY CUVEE CHRISTINE FRIEDBERG
POMMARD CUVEE RAYMOND CYROT
BEAUNE 1ER CRU CUVEE BRUNET
BEAUNE 1ER CRU LES MONTREVENOTS CUVEE SUZANNE ET RAYMOND
SAINT-ROMAIN CUVEE JOSEPH MENAULT
MEURSAULT 1ER CRU PORUSOTS CUVEE JEHAN HUMBLOT
MEURSAULT CUVEE LOPPIN
BEAUNE 1ER CRU CUVEE ROUSSEAU-DESLANDES
SAVIGNY-LES-BEAUNE 1ER CRU LES VERGELESSES CUVEE FORNERET
POMMARD CUVEE SUZANNE CHAUDRON
AUXEY-DURESSES 1ER CRU LES DURESSES CUVEE BOILLOT
BEAUNE 1ER CRU CUVEE HUGUES ET LOUIS BETAULT
SAVIGNY-LES-BEAUNE 1ER CRU CUVEE FOUQUERAND
BEAUNE 1ER CRU LES MONTREVENOTS CUVEE CYROT-CHAUDRON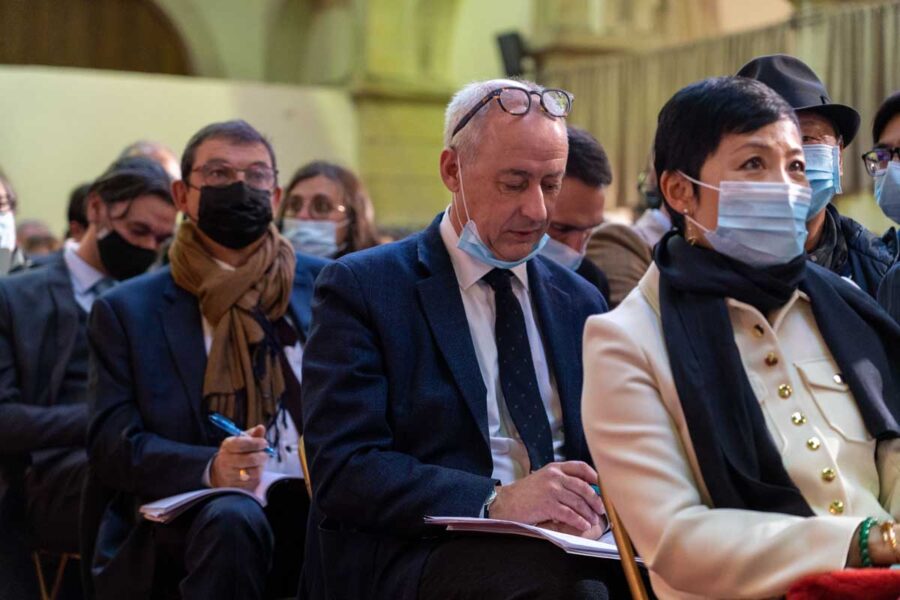 Hospices de Beaune week-end: a time to celebrate and share good moments and good wines alike!
Here are a few pictures from this very festive weekend where Albert Bichot gathers winelovers and friends from all around the world.
• Tasting all Hospcies wines that will be auctioned
• Private tasting and functions at Albert Bichot
• Auction time !