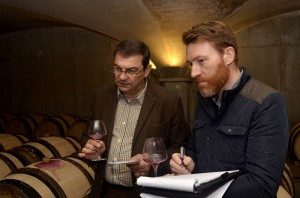 Every year, the Albert Bichot team goes to the Hospice de Beaune winery to taste several times the full range of 48 cuvées (wines) that will be on auction on the 3d sunday of November.
Alain Serveau (chief winemaker) and Cyrille Jacquelin (winemaker) and Jean-David Camus from Hospices-Beaune.com will carefully assess each wine, see its potential and evolution in its very first ageing stage. This will allow us to make solid recommendations for our customers who want to buy with us at the Hospices auction, either a full barrel of 288 bottles or a more modest (but not less interesting) purchase of a minimum of 3 bottles within a selection of 5 wines.
At the end of the interview and meeting with winemaker Ludivine Griveau, Jean-David Camus asks a very tricky question : describing the Hospices de Beaune 2015 vintage in just a few words. Here is the general feeling : 
red wines : density, fresh fruit, concentration and pleasure
white wines : précision, aromatic presence, length
The number of barrels on auction is not known yet but should be close to the 2014 vintage (575 barrels : 117 white and 458 reds), making the 2015 vintage a rare and definitely interesting harvest!