A new record for the Hospices de Nuits-Saint-Georges 2022 wine auction, a mirror of a very generous vintage
Sunday 12th of March took place the 62d vente des Hospices de Nuits-Saint-Georges. A tremendous success and a new auction record with 3,6 M€ of total sales. This is a somewhat expected result as 2022 was a very generous vintage and for the first time ever 160 barrels were put for auction. Le prix moyen de la pièce reste stable par rapport à 2021.
The Pièce de Charité (charity barrel), called "Cuvée des Bienfaiteurs", broke also a new record at 64 580€ to the benefit of Les Blouses Roses, a charity supported by French actress Constance Dollé.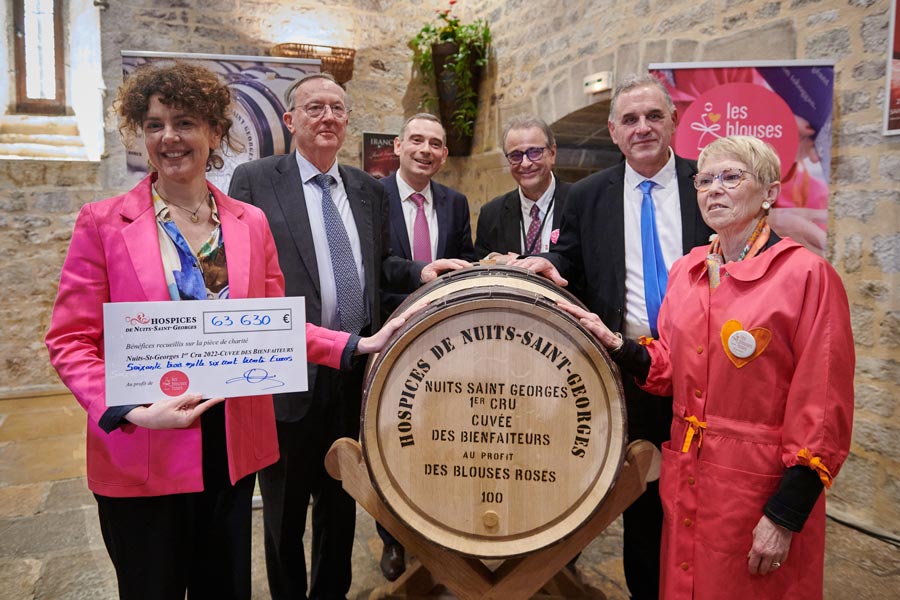 Hospices de Nuits-Saint-Georges vintage 2022 : Albert Bichot remains the #1 buyer once again with 36 barrels
Albert Bichot was this year again a strong supporter of the Hospices de Nuits, with 36 barrels bought for many French and international customers, including of course buyers from this very website www.hospices-beaune.com This represents 22,5% of total volume and 30% in value. We'll have a sheer pleasure ageing those fabulous wines in our cellars to bring them to their utmost potential.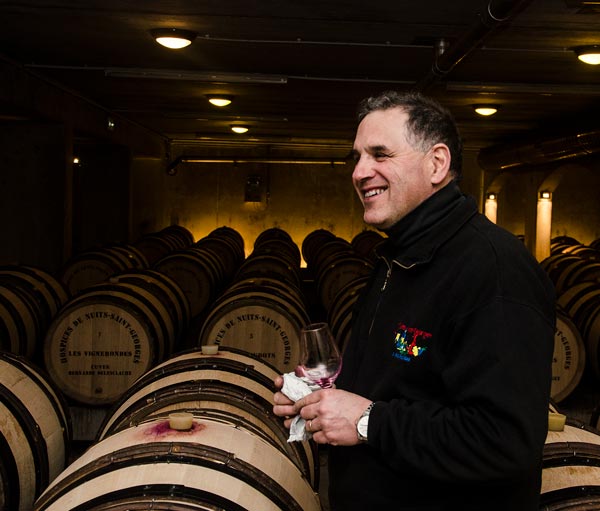 Hospices de Nuits-Saint-Georges : a list of all wines from the estate put for auction every March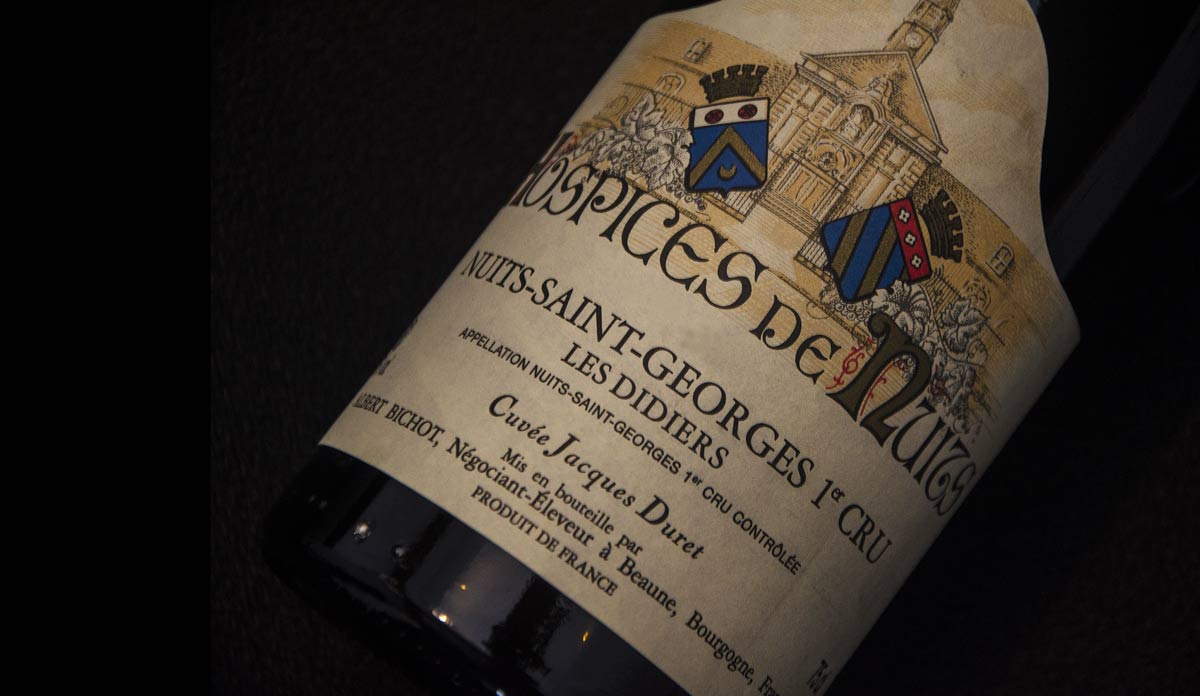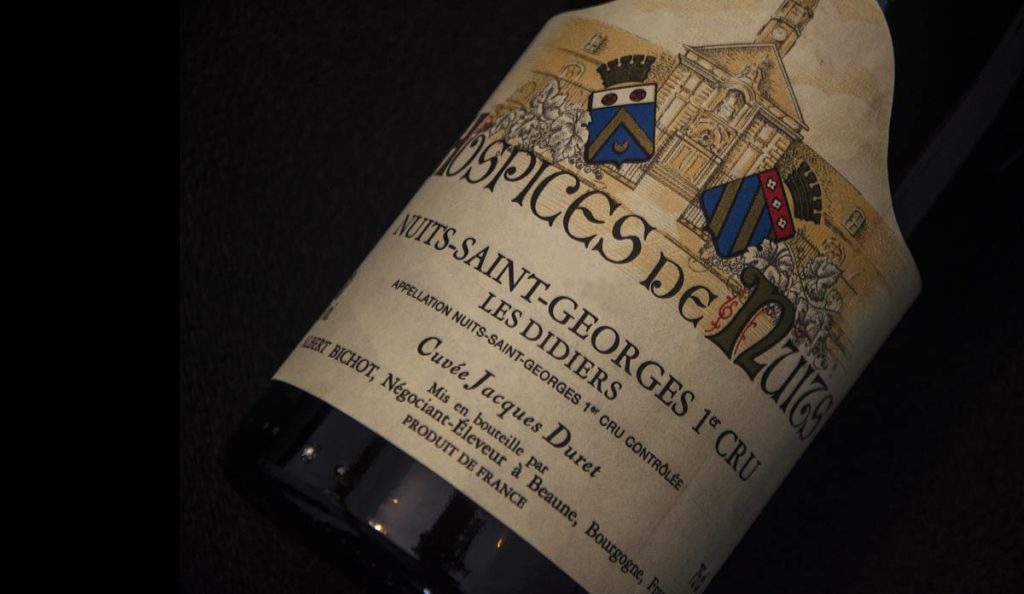 Nuits-Saint-Georges 1er Cru LES MURGERS Cuvée Guyard de Changey
Nuits-Saint-Georges 1er Cru LES CORVEES PAGETS Cuvée St Laurent
Nuits-Saint-Georges LES MALADIERES LES BRULEES Cuvée Grangier
Nuits-Saint-Georges 1er Cru LES PORETS Cuvée Antide Midan
Nuits-Saint-Georges 1er Cru LES BOUDOTS Cuvée Mesny de Boisseaux
Nuits-Saint-Georges 1er Cru LES DIDIERS Cuvée Fagon
Nuits-Saint-Georges 1er Cru LES VIGNERONDES Cuvée Bernarde Delesclache
Nuits-Saint-Georges 1er Cru LES RUES DE CHAUX Cuvée Camille Rodier
Nuits-Saint-Georges LES LAVIERES – LES BAS DE COMBE Cuvée Guillaume Labye
Nuits-Saint-Georges 1er Cru LES SAINT GEORGES – LES SIRES DE VERGY Cuvée Georges Faiveley
Gevrey Chambertin LES CHAMPS CHENYS Cuvée Irène Noblet
Nuits-Saint-Georges 1er Cru LES TERRES BLANCHES Cuvée Pierre de Pême
Nuits-Saint-Georges 1er Cru LES DIDIERS Cuvée Cabet
Nuits-Saint-Georges LES SAINT JULIEN – LES PLATEAUX Cuvée Claude Poyen
Nuits-Saint-Georges 1er Cru LES SAINT GEORGES Cuvée des Sires de Vergy
Nuits-Saint-Georges 1er Cru LES DIDIERS Cuvée Jacques Duret
Nuits-Saint-Georges LES FLEURIERES – LES PLANTES AU BARON Cuvée des Sœurs Hospitalières
Nuits-Saint-Georges 1er Cru LES TERRES BLANCHES Cuvée St Bernard de Citeaux