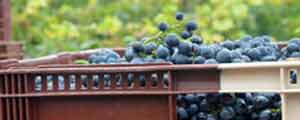 Harvest 2015 started under the sun at the Hospices de Beaune estate as at many other Domaines in Burgundy, not to mention of course at Maison Albert Bichot.
Here is what the Burgundy Wine Board said a few days ago :
"The grape harvest in the Bourgogne winegrowing region is in full swing, and our winemakers are welcoming this new vintage with a big smile. Every indicator is positive – the grapes are at optimum maturity and in excellent health, and winemakers are confidently talking about an extremely good year. The only shadow over proceedings is the hail that hit the north of the region on 1 September, causing localized damage.
A sunny year with excellent quality
After early flowering and a very hot and dry summer, with episodes of welcome rainfall in August, the harvest began at the end of August in the southern part of the Bourgogne winegrowing region. Winegrowers are very happy with the condition of the fruit that has already been picked or is waiting its turn to be brought in.
The fine weather held any threat of disease at bay, allowing each winemaker to choose a harvest date when their grapes reach optimum maturity.
Even though the lack of rain this year has had some consequences in terms of yields, the Bourgogne winegrowing region has really enjoyed an outstanding season.
However, the winemakers of Chablis, Irancy and Saint-Bris were hit by a hailstorm on 1 September. The episode caused major concern, but the damage is limited. The storm followed a straight line, sparing the majority of plots. Those vines that were hit by hail could be picked immediately as the grapes were ripe. A return to cooler, dryer weather also helps prevent any deterioration in the health of the grapes or the quality of the fruit."
The 2015 vintage promises to be a magnificent one right across the Bourgogne winegrowing region.