Beaune 1er Cru Cuvée Dames Hospitalières
Hospices de Beaune 2020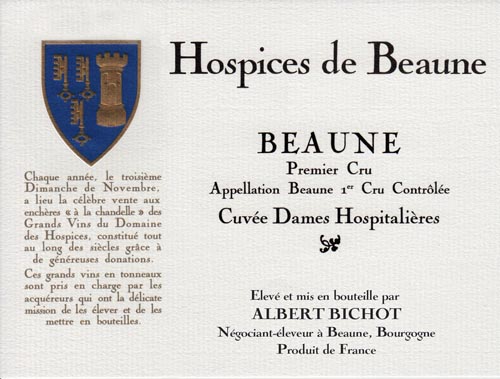 PDF
---
Region: Côte de Beaune

Village: Beaune
Level: Premier Cru
AOC: Beaune 1er Cru
Grapes: Pinot Noir
Color: red
Tasting
Bright colour, complex nose of wild berries, dark fruits and cherry. Structured and elegant mouth, true to the mix of the several terroirs that compose the Beaune 1er Cru cuvées from the Hospices.
Food matching
Sophisticated aperitif, good meal with friends and home-made cooking (duck parmentier, beef stew). Mild cow cheese.
History
Traditionally, this fine Cuvée of Beaune Premier Cru opens the sale. It is named for the lady nurses who have tended the sick of the Hospices since its foundation in 1443. Furthermore, several nurses left important legacies. These sisters originated from Saint-Omer, in northern France, and did their training at the Hospice of Valenciennes, which lies just within France's border today with Belgium. The wine is made entirely from Premiers Crus vineyards, mainly Les Bressandes (no vines being younger than 1985), La Mignotte and Les Teurons.
Terroirs
La Mignotte 1.13 ha.,
Les Bressandes 1.07 ha.,
Les Teurons 0.55 ha..